How did this powerful and far-reaching ministry get started?
Paul Zimmerman, rejected for missionary work in Africa because of poor health, turned first to the churchless communities of the mountains of Kentucky. Just half a block from his own house in Williamsburg, the pavement ended and Slabtown began. Zimmerman had never bothered himself about the 'Negroes' living there. In 1942, after several years of very fruitful work in the area of 'home missions', the Lord enabled him to meet Pastor B. M. Nottage, of Detroit, MI. It was Nottage's burden that someone should go to his people, the American Black, who were everywhere in the U.S.A.  Zimmerman now saw the people of 'Slabtown' as fellow human beings 'for whom Christ died' and realized their need for the Gospel.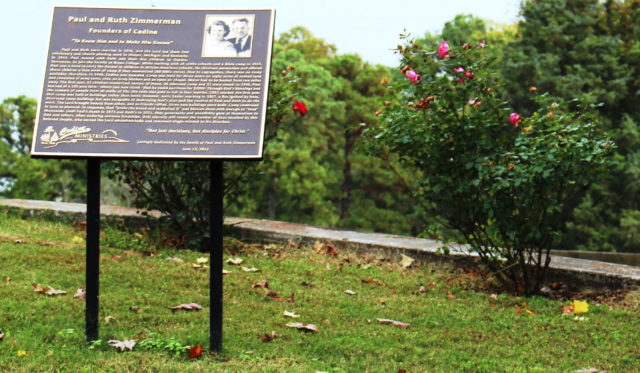 Why cross an ocean to evangelize Africa when hundreds of Black people lived at his very doorstep? Paul and his wife, Ruth, went to 'Slabtown' and got acquainted. They heard their problems and sympathized. Several years passed. During this time, Zimmerman, with his family of five young children moved to the mountains of southeast Tennessee. So real was this vision, that upon beginning a work in Tennessee in 1946 Zimmerman sought permission to carry the Gospel to the Negro, or Black communities also.
In 1946, with no thought and no plan other than just getting the Gospel to all people in southeastern Tennessee, Paul Zimmerman began to visit the small segregated 'colored' schools of the area. The presentation of Scripture memory work, the telling of interesting Bible stories and the teaching of Gospel choruses aroused interest in a summer Bible camp opportunity.
The effectiveness of a camping program among white children had long been known to this man. Now he coveted this same experience for his new-found Black friends. The 'home missions' board, Tennessee Mountain Mission, under which the Zimmerman's worked suggested that this should be a separate, segregated work.
Back in 1947 when Paul Zimmerman rented eight acres of land, summer camps for Blacks were virtually unknown. That's when Cedine, a contraction of 'cedar' and 'pine', Bible Camp came into being.
In the early years it was hard to convince Black children that camp was worth memorizing 200 Bible verses, the number required for a free week at camp. What was camp? They had no idea. "Well", said Zimmerman, "you sleep in a tent and have a picnic for breakfast, a picnic for lunch, and a picnic for supper, with fun and stories in between. Then you sleep in a tent and have three more picnics and more fun and more stories."
Evidently they were persuaded, because the first year, 1947, thirty-six of the forty-two children who learned verses actually went to camp. That first year three days of persistent rain dampened spirits. Half of the campers begged to go home. At last Zimmerman agreed. "Tomorrow those who want to, will be taken home".
Around the campfire that wet night, thirteen confessed Christ as Savior and asked if they could remain. By the weekend, they cried because they had to go home! Of those thirty-six campers, thirty-one made a definite commitment for Christ.
Camp began in a most primitive fashion. There were five used army surplus tents, a large canvas over a pole for a mess hall, and a kitchen made of sawmill slabs, without screened doors and windows. There was no refrigerator. Metal pie pans and tin cups were the only table service. However, those thirty-six boys and girls were delighted with the first Bible Camp established especially for them.
Of the five counselors that first summer, three of them later went to Africa as 'foreign' missionaries. Those first campers were our very best public relations contacts. Each child told others about 'the camp'. Attendance doubled and tripled each year from the previous year. It wasn't long until it became necessary to have a special camp for the young people. This soon developed into a Young People's Conference. Soon requests came for 'something for people with a family'. In the early 1960s a week was set aside for a Family Bible Conference. Almost at once this was assured of complete success, as part of the summer program. With a nursery, and VBS-type programs for all children under the 6th grade, and baby-sitters for the mothers at night, that one-week program has expanded and developed into not only summer family conferences, but retreats and conferences on the adult level year around.
Incorporated in Tennessee in 1950 for the evangelization, Bible training and sending forth of Black youth to preach, the Mission has touched thousands of lives through the years with the positive influence of the Gospel.
From the early winter of 1946 until the spring of 1950, there was a continual search for a place that could be leased or purchased as a permanent campsite. All efforts failed. In February 1950, Paul and Ruth Zimmerman carefully walked over the 8-acre rented plot where the camp had been. They committed the problem to the Lord in united prayer, and started for home. Mrs. John Hughes, from whom they rented the property, met them at the gate and spoke of a neighbor who had his 100-acre farm for sale. The place, across the lake from the Hughes' farm was less than one-half mile away by water.
When Zimmerman first saw the present campsite, he believed God was directing him there for the future camp. But since he had no visible assets, a $2,000 cash deal seemed impossible! However, a mere acquaintance stepped forward as co-signor for a loan. Four months and four days later the note was paid in full, including interest!
Where did the money come from? Everywhere! Two missionaries on their way to Africa sent $20, enough for one acre of land. They were 'glad someone was doing something for American Negro youth'. An 80-year-old Bohemian immigrant gave up his plans to buy dentures. "I can get along without teeth", he said, "but the Lord needs men to tell others about Him". He gave $100 and worked six weeks helping clear brush, making a place ready for camp.
In two cleared areas cabins were built. Four bunks and a cot accommodated eight campers and a counselor in each.
The administration building, Ambassador Hall, houses camp offices, camper lounge, and the craft rooms. A chapel named in honor of the beloved Negro evangelist, B. M. Nottage, seats 200. The Martha Hughes Dining Hall comfortably seats 175. Nearby is the camp laundry, snack shop, outdoor hillside chapel, and several other necessary buildings. The land with about a mile of lakefront is now quite valuable, flanked on every side by large housings and resort developments.
Hikes, picnic suppers at the lakeside, sleep-outs (boys went one direction, girls the other), horseback riding, swimming, canoeing, basketball, softball, archery, and handcrafts filled the activity hours at camp. Bible study and true-to-life application were modeled by well-trained counselors and staff workers. Discipline was good. The password at the table was 'please'. Food was served family-style and every camper automatically joined the 'clean plate club'.
From the very first as Mr. Zimmerman did deputation work, there were those who were attracted to this new ministry. Some stayed and helped for only a short time, and then went on to serve in other areas. Others came permanently.
The early ministry included many Vacation Bible Schools as well as camp. Many Bible college young people came each summer just to help in the ministry. As a result, the Zimmerman's large house in nearby Grandview, TN was more like a dormitory than a home. Often there were as many as 15-20 extra persons living with the family.
Interest grew in the camping program. Some of the young people returned year after year. Cedine workers kept reaching out to more and more counties with the Bible memory program. From the original two counties of Rhea and Roane, there were ten in 1950, and the number increased to more than thirty in three states by the middle of the 1960s.
Befriending a minority race brought problems. Anonymous phone calls, cross burnings, cursings, outright threats of bodily harm, and just evil looks were not uncommon in those early days.
On Easter Sunday, 1957, at 1:30 a.m., a phone call informed Mr. Zimmerman that the camp was on fire. He rushed the sixteen miles from his home to camp but was too late to save two buildings. A third building was spared when a fuse failed to ignite. Friends rallied, and bigger and better buildings were ready when the first campers arrived that June.
Over the years, children loved this warm-hearted man who had endangered his life for them. Some have said, "Thank you for letting us play on the grass, Mr. Zimmerman. We don't have any at home".
The camp grew with great vigor. From the early days, there were suggestions that a Bible Institute should be established. These proposals were strongest in 1957 as the Mission began to rebuild those buildings destroyed by fire. However, it was not until after the tragic death of summer-staff member, Curtis Hodge, (by drowning in 1962) that official action was taken. Once started, matters moved quickly. The Lord encouraged faithful stewards to send the needed money. Mr. Francis Hance (for whom Hance House is named) provided some of the initial finances. The new Hodge Memorial Hall was dedicated on June 5, 1966. This building, which now houses the administrative offices for the Mission, housed both the Mission offices and the Bible Institute classrooms. Brother Tom Florence, a missionary staff member since the late 1940s, was named Dean. Other staff members became the teaching staff.
The Bible Institute opened its doors in October 1966, with three students. Two continued throughout the year. Clemmie Baugh became the first graduate three years later. Growth was steady and by 1980 there were more than thirty full-time students enrolled.
In the early 1970s, Missionary TECH Team came, surveyed, planned, and drew up a ten-year development plan for the Institute. In 1973 the South Wing of the academic complex named the Paul Zimmerman Memorial Building was dedicated. Classrooms and library were transferred from Hodge Hall, as were the dining room and kitchen from Grace House basement, to this new building. In 1975 a new three-story residence, the W.E. Nash Hall, named in honor of one of Cedine's original Board members, was dedicated.
From the beginning the Bible Institute, although small, was unique in that it was a work of faith. The students attended classes for four hours a day and worked 24 hours a week to 'pay for' their educational opportunities as well as their room and board. Tuition was free. The Student Work Program included Mission and Institute maintenance, farming, janitorial and secretarial work, food preparation, and upholstery. A fiberglass canoe industry, started by J.C. Upton, saved as a young man through the ministries of Cedine, also provided work for several of the students as did new facility development. The work program also included a utility shed building project and a fire department which in addition to providing fire protection for Cedine, offered protection to the local community as well.
Directorship of this far-reaching ministry became an increasingly heavy task. Eventually, the bi-racial Board agreed that the torch should be passed from the hands of Paul Zimmerman into those of his son, Dwight. This was done in the summer of 1966. From that time until the time of his death on May 31, 1973, Paul Zimmerman continued to be active, doing public relations work of the Mission.
As the years progressed, more opportunities for Christian higher education became accessible to African-Americans. Therefore, the Board of Directors agreed to close the resident training program in 1988. After the Bible Institute closed, the retreat ministry expanded under the leadership of Camp and Conference Director Howard Tannahill. These retreats and conferences still occupy much of the spring and fall months. The Jubilee Center, a beautiful food service building overlooking the Watts Bar Lake, was dedicated debt-free on September 12, 1999.
In 2001, Brother Vernon Tannahill was appointed as Cedine's third General Director and Brother Burchon Walker was named the Camp Director. In 2003, we began a renovation program in the camp villages. As of 2018, buildings 3 and 4 are completed.
Brother Howard Tannahill served as Conference Director for over 25 years until 2008 when Brother Steve Minter was appointed to serve in that capacity. Two years later, challenges arose when Brother Steve was diagnosed with cancer and then went home to be with the Lord February 2012. Through that difficult time, we had to trust the Lord to help us carry on the Conference Ministry. The ministry was started by Brother Howard, who went home to be with the Lord January 2015.
In 2010, Brother David Lewis took on the responsibility of Camp Director. 2010 was also the beginning of a new venture called the MAPS (Ministry Apprenticeship and Practical Studies) program. Brother Phil Zimmerman, the grandson of founder Paul Zimmerman, developed this program for post-high-school young people to come to Cedine to live, work, and study for 15 months.
Much has been accomplished, but there is still much work to be done. As we look to the future, there are still buildings to be built and new programs to implement. More importantly, there are many more people who need to hear the life-changing truths of God's Word. Cedine's motto through the years has been 'Not just decisions but disciples for Christ.'  Although Cedine has changed programs and buildings throughout the years, we strive to continue the work of seeing many come to Christ and encouraging them to grow through discipleship.